Nyanga – First day
Today we all rose up early to be ready at eight o'clock for Jo (our driver) to pick us up. And after realizing that a small miscommunication had occurred we finally left our place around 9. Good times, hehe. The weather was amazing though, and it didn't take too long before me and Lars had our feet planted on the ground in Nyanga.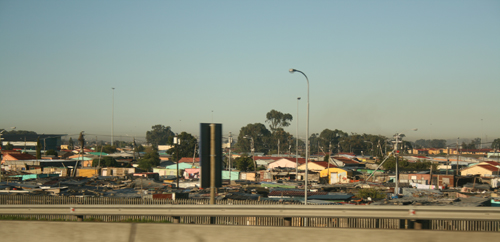 First day of real work, but we were set on taking it easy and just assess the situation with a keen eye. So, our class of 17 students has been divided between all of Shawco's centers. Nyanga, the center I wrote about in the previous post, has been so lucky to be assigned with hosting me and Lars. We make a good team because I'm a thinker, and he's a doer. I have a B.A. in multimedia, while Lars has a B.A. in political sciences, and we're both trained in entrepreneurship. Let's make it happen I say!
What came out of the first day?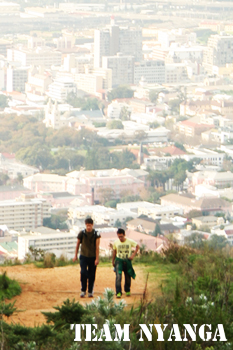 I could tell you so much about our first day at Nyanga, but I'll stick with retelling some of the ideas that surfaced today. Talking with the center managers was very fruitfull. Sorry, but not everything will make perfect sense since this is more like quick notes.
Can we create an IT solution for job networking? The frustration is that a lot of IT – certified people are unemployed and at home, without a good way to advertise themselves.
Is the IT – center charging enough for it's services? Can we also add visit card printing to the regular printing services?
Improving the entrepreneurial school. We want to get in touch with hopeful entrepreneurs who we can provide lessons in entrepreneurship, and perhaps together we can start some IT businesses. The thing is that me and Lars have several IT ideas for the other centers, but we can't do it ourselves. Nor should we because they need to continue the whole thing after we leave after three months.
Is there possibilites for cooperation with the Etifani organization? They should be paying more for using our IT center, which they do use regularly for R10/hour.
After looking over the numbers briefly we started talking about investing in a car with a private driver instead of using the taxi service? Currently a taxi service is used to ship the seniors around, and it eats up roughly half the monthly budget.
While we were sitting around the table, and brainstorming, Lars asked a key question.
Where will the Nyanga center be in one year?
That will be hard to know, but we can help to steer it in a good direction. Me and Lars will provide some creativity and know-how, but the center managers will have to act as our anchor with the community. The center managers have a good idea of what ideas will be the most feasible, and what the community really needs.
Every friday is a meeting between Varkey George (head of Shawco) and each of the centers. Tomorrow happens to be one such friday, and it's going to be interesting to see what comes out of it. I'm sure all of the other students working the other centers are brimming with ideas, questions and input as well.