The undertaking
It's already our second week here in Cape Town. Last week we were shown around campus and also shown around the different townships (poor communities) where SHAWCO the student organization we're working with operates.
Each of the centers have their own unique characteristics, and I'll try to make a small list of what our class of 17 social entrepreneurs (in training) will be dealing with. Also listed is working in the head office, where some projects are run from. The first week went by with us being introduced to the various centers. We have had time to reflect over where we would like to be stationed, and what projects we would like to pursue over the course of the next three months.
Common to all the centers is that we will have to analyze their spending, and make an overview of their spending. We are to work closely with the center managers so that after mapping out the investments & expenses from 2008 up until present date they'll be able to take over. This is a crucial task that has been given to us. If we can educate the center managers and teach them proper bookeeping it would be a serious contribution. Shawco is growing and needs to have a better overview. It is necessary to be able to keep track of the spending at the individual centers, which isn't happening at present date. Someone needs to teach and encourage the center managers to do so.
Is it possible to make these centers self-sustainable or even profitable?
What follows are a list of the centers and some of the individual features to them.
Khayelitsha K1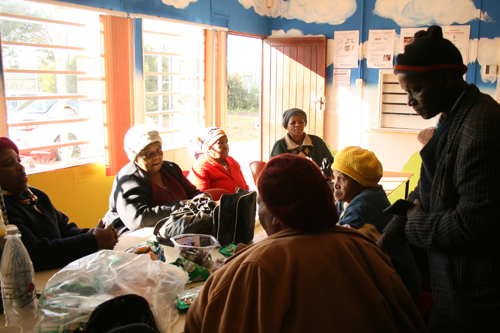 I vividly remember my first visit to this center. We were all greeted by smiling seniors, who went to the K1 center to enjoy each others' company. The center manager was a kind woman named Lizzy, who explained to us how that particular center operated.
Next to the center was a daycare center run by a lady who had approached SHAWCO with the wish to start a business taking care of kids.
Skill training for women in how to land a job and keeping it was taught at this center. Many of these women are single-mothers who off course would need someone to look after their kids while they're in class. Thereby making a next-door daycare business viable.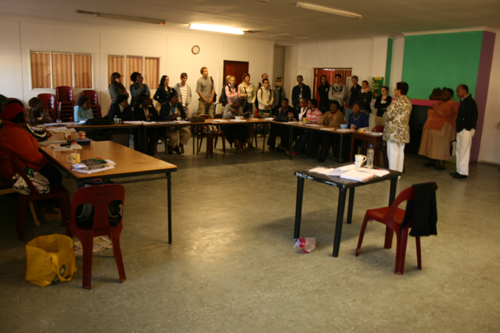 Also at the center was something of a clinic, which stood unused by day. Certainly something could be done to utilize this room in a good way.
Khayelitsha K2
Coffee shop
IT – cafe
Wetlands
A very exciting center to be sure, with a staff that is young and open-minded.
Inside the center is a well-equipped IT-center with a projector screen. Having a IT-center poses various possibilities in it-lessons & it-business in the form of for example an it – cafe, which is largelly unheard of out in the townships. I think it would mean a great deal for a person living in a township to be able to look anything he or she might be interested in learning more about, and in that process be exposed to new things. There is a whole world outside of the townships, which can be reached through the internet.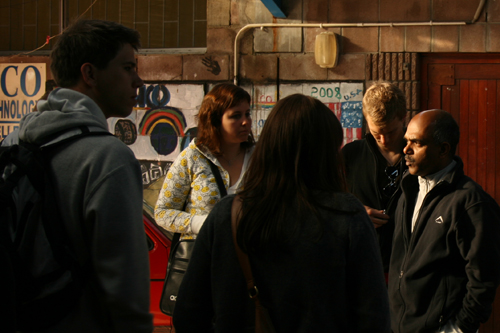 The coffe shop is an attempt to cater to tourists coming out to the township. Right now organised trips for tourists into townships does exist, but not into Khayelitsha. We hope make Khayelitsha also available to tourists, who can get a chance to learn more about the township and what is done to improve it.
Next to the center is a huge piece of land, almost a square km, which they need someone to make something clever out of. The middle portion of the land is actual wetland, home to wildlife and therefore untouchable. Constructing something around the edges of the center wetland is our "mission".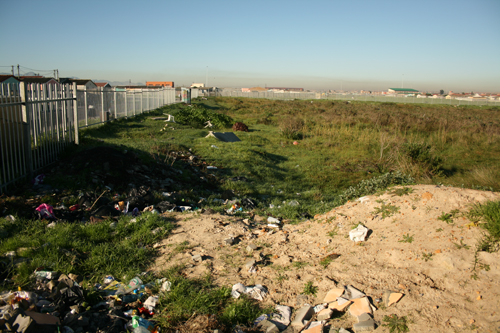 There are several obstacles to this. Currently there's a tall, solid fence around, built to keep people wanting to dump garbage out. When we were there we saw several truckloads of garbage which had been dumped on the premises before the fence had been put up. If we are to do anything about the wetlands we'll have to involve the local community and make them invest in the project, or they'll just keep dumping garbage into it.
Nyanga
IT – center: Classes in entrepreneurship & computer skills
Beads: Making bracelets, necklaces and the like.
At first glance this center didn't come off as one of the "hottest" centers to work at, but if one takes a second and third glance at the entrepreneurial computer classes and the willingness to initiate a production of bead-wear one starts to see a potential. Initially I was very sceptical to the notion of making money on bead wear, would beads be a feasible endevour in the long run? After talking some of the other people on this program I've managed to persuade myself into believing in beads again. There are indeed people making money on bead-work, but we will have to execute the project properly.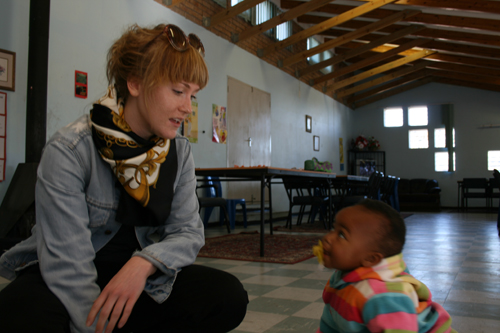 Mannenberg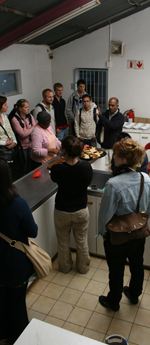 Bread project: Can bread making be a viable business out in the Townships?
School uniforms: All kids

must

have a uniform to go to school, and many parents pull their hair because they have to pay for expensive school wear. In Mannenberg there are a lot of people with skills in tailoring because they've been laid off. Can we start a growing textile industry, based on school wear?
Both Mannenberg and Kensington were previously colored townships, and if I'm not mistaken they're both somewhat richer than the other townships. Just to explain a little more, the townships were divided into black or colored townships. White people had their own area as well. Even though the apartheid laws are gone, the communities still retain a certain predominance of colored, white or black people respectively. So, I guess there's a tendency to "stick with their own." Hopefully there's a slow process of integration & acceptance happening.
Kensington
Seniors
Creche
Music school

The Kensington center was introduced to us as the most expensive. Whoever will be working on the sustainability for this center will be doing an important job. The creche hosts something like 135 kids on a regular basis.
I remember walking into the creche (just another word for daycare center) quite vividly. Row after row of small kids sleeping soundly, and four ladies looking after them.
Also at the center was a very business oriented music school, which aimed to teach youngsters to express themselves through music and still know how to make a business out of it. Some of the artists who's come out of the center have even traveled abroad to perform. Other artists aim to perform more locally. The music portion of the center has only been funded for three years, and after that it will have to sustain itself.
Head Office
<ul style="text-align:justify;">
  <li>
    Saturday School
  </li>
  <li>
    Rags to Riches
  </li>
</ul>

<p style="text-align:justify;">
  The saturday school is a program that transports pupils to the University of Cape Town, and tutors them there. In addition to the scholastic benefit, there's also the bonus of being exposed to an environment quite different from the one out in the Townships. It shouldn't be too hard to imagine how hard it would be study for an important exam out in the townships, without any idea of where one is studying to get in. Another challenge to educating these youngsters is that they need to learn about the whole range of careers available to them.
</p>

<p style="text-align:justify;">
  Funding the saturday school is the Rags to Riches program. It's a program that receives clothing donations, and then sell clothes to women who can sell them again. To many it would seem wrong to sell these donated clothes back into the townships, but it's the only way to introduce these clothes into the market without dumping the market prizes and thereby ruining peoples' livings.
</p>

<h3 style="text-align:justify;">
  Finally getting placed
</h3>

<p style="text-align:justify;">
  Last sunday was the big showdown session where we, 17 of us, had to agree on our placements. After some nudging we eventually came to an agreement, and I was placed on the Nyanga center with Lars. I'm pretty excited about the placement because I see potential in the center, and Lars who I'll be working with is a skilled level-headed guy. Tomorrow will be our first day of working out in the townships. Excitement. :)
</p>

<p style="text-align:justify;">
  <img class="aligncenter size-full wp-image-58" title="Social entrepreneurship Oslo UCT program summer 2009" src="/wp-content/uploads/2009/06/group_photo.jpg" alt="Social entrepreneurship Oslo UCT program summer 2009" width="426" height="283" srcset="/wp-content/uploads/2009/06/group_photo.jpg 500w, /wp-content/uploads/2009/06/group_photo-300x199.jpg 300w" sizes="(max-width: 426px) 100vw, 426px" />
</p>

<div id="_mcePaste" style="overflow:hidden;position:absolute;left:-10000px;top:2444px;width:1px;height:1px;text-align:justify;">
  <p>
    <img class="alignright size-full wp-image-56" title="Kitchen in a township center" src="/wp-content/uploads/2009/06/mannenberg.jpg" alt="Kitchen in a township center" width="150" height="345" srcset="/wp-content/uploads/2009/06/mannenberg.jpg 150w, /wp-content/uploads/2009/06/mannenberg-130x300.jpg 130w" sizes="(max-width: 150px) 100vw, 150px" /></div>